Bio-logging is the process of attaching transmitters, sensors, and other devices to living organisms to record their migration and diving routes and to conduct research on their behavior and ecology. Bio-logging has been conducted on a large number of organisms, including whales, sea turtles, seabirds, and fish. In cooperation with various research institutes, we have been working on elucidating the behavior and ecology of sea turtles by attaching transmitters and sensors to them and tracking their migration and diving behavior.
Here, we introduce some examples of bio-logging that we have conducted so far.
【Case 1】:Two green turtles that finished laying eggs
On August 17, 2004, in collaboration with the National Institute of Polar Research and the Ocean Research Institute of the University of Tokyo, two female green turtles that had finished laying eggs in a fish tank at the Ogasawara Marine Center were fitted with Argos transmitters* and released from the Seihyokaigan Beach where the Ogasawara Marine Center is located. One of them stopped transmitting near Kozushima Island in the Izu Islands on September 16, and the other went further south along the coast of Kochi, where its last transmission was on the southern coast of Kyushu on September 24.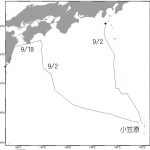 [※The Argos transmitter]
The Argos transmitter is a satellite-based data collection and positioning system. It was developed in cooperation with the U.S. and France, and has been attached to various migratory creatures and drifting objects since 1979. Argos is a monster with 100 eyes in Greek mythology. An object equipped with an Argos transmitter can obtain its position data with an accuracy of minimum 100 meters.※The transmitter is fixed with epoxy adhesive, but can be peeled off after a while.
【Case 2】

:

Green sea turtle "Miss China"
In May 2007, a green turtle with a red Chinese character stamped on its back came ashore on the beach in front of the Marine Center. The turtle was temporarily placed into one of the Marine Center's tank because of its unusual appearance. When the origin of the turtle was investigated based on the red stamp, it was found that it was about to be sold for food in China, however, thanks to the Buddhist custom known as "hojo" (releasing caught fish and birds), Buddhist monks saved her life and released her. The sea turtle was named "Miss China" and spent a summer in the fish tank, laying eggs six times without problems.
Afterwards, with the cooperation of a sea turtle research institute in Hawaii, the turtle was fitted with an Argos transmitter and released into the ocean, and transmission ceased at the end of the 80 km west-northwest of Daito Island in Okinawa. We have been tracking green turtles for some time now, but this was the first time they had ever moved south from the Ogasawara Islands or stalled. This was very valuable data for clarifying the spawning migration of green turtles in Ogasawara.
【Case 3

】

:

Okinawan-born, Ogasawara-raised Hawksbill sea turtles
In 2001, the two Hawksbill sea turtles born in 1999 on Kuroshima Island in Okinawa were brought to the Ogasawara Islands for breeding tests. They grew steadily, and it was found that they could grow even in Ogasawara's water temperature in captivity.
On October 16, 2007, we attached Argos transmitters to the two Hawksbill sea turtles that had been raised at our Marine Center for about seven years, and released them off  of Chichijima. After their release, they did not head toward Okinawa, but instead headed north and then east. It was thought that they would go to the sea around Hawaii, but both of them showed a tendency to go back towards the west. Their travels lasted for about a year after the transmissions on August 2 and November 23, 2008, respectively.