Duties include breeding assistance, exhibition hall work, research assistance, data organization, and facility maintenance. All of these duties are performed in shifts. All of these tasks are important to the Marine Center and are not inferior to others. We ask for your understanding and cooperation in all of these tasks. Research activities at sea and at night involve unexpected dangers. Please cooperate with others, be attentive, and be alert.
Breeding assistance
Feeding and cleaning the tanks of our sea turtles kept in the Marine Center is essential every day. There are also other tasks such as regular measurements and shell polishing, which require outdoor work even under the scorching sun in the summer.




Exhibition Hall Work
Guide visitors around the museum, explain programs, sell souvenirs, and clean the museum. You may be required to explain to visitors about green turtles, humpback whales, and sometimes even about Ogasawara. It is important to have good communication skills and to make an effort to gain knowledge and experience in various fields on a regular basis.
Green Sea Turtle research Assistance (May-November)
May-August: Egg-laying nest surveys (daytime), nighttime patrols and tagging (nighttime)
August-November: Post-hatching surveys
In 2003, we started night patrols (20:00-25:00) at Omura Beach. For the protection of juvenile turtles, eggs laid at Omura Beach are transferred to the hatchery at the Marine Center. The rhythm of life tends to become irregular during the period of night work. In addition, it is very hot during the day and requires a lot of physical strength. It is important to take care of your own health.
Digging out turtle eggs to check them
Sorting out the dug up eggs
Measurement of shell curvature
Attachment of tags for individual identification
Assisting with Humpback Whale Research (January to April)
We conduct research on the ecology of humpback whales, which migrate around the islands from winter to spring for breeding. We search for whales from both land and boat, and most of the work is done by matching black-and-white photographs, which requires a lot of patience.





Data Organization
Includes organizing field books, capturing turtle data, and matching humpback whale tail fin photos.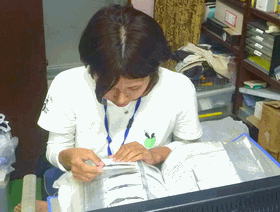 Chores and Cleaning Duties
These chores and cleaning duties include working outside and doing yard work. The center is like a tropical botanical garden with plants that need to be tended. Also, the facilities are easily damaged because they are located next to the beach. It is important to maintain and repair them frequently on a daily basis.