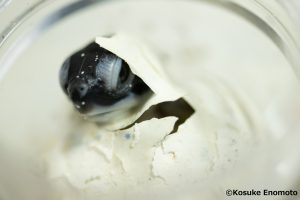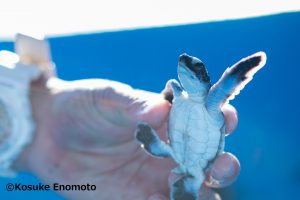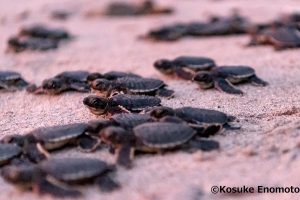 Applications for 2020 have been closed.
A new program for long-stay guests will be held during the Ogasawara Maru's sailing season!
This is a night-time baby turtle release program, limited to 10 people per session, by reservation only!
After a slideshow presentation on how baby turtles grow to adulthood, why they lay eggs in the Ogasawara Islands, and how they hatch from eggs and return to the sea, you can interact with the baby turtles that hatched the day before (hatchlings from eggs protected at Omura Beach), and finally release them with your own hands. ⇒Click here to learn about our egg protection program
You will definitely be impressed by the cute appearance of these baby turtles! While participating in our sea turtle conservation activities, you will also create precious memories unique to the Ogasawara Islands in summer!
Date and time: 18:30- (slot 1) / 19:30- (slot 2), the day before arrival at port
*Held only during the hatching season from July to October.
*Please note that even if you make a reservation, we may not be able to hold this event due to hatching conditions, weather, or sea conditions. We appreciate your understanding.
Participation fee: 
Adults (junior high school students and older) 2,500 yen (tax included) 
Children (elementary school students) 1,500 yen (tax included)
Cancellations for reasons other than ship transportation cancellations will be subject to a cancellation fee.
Eligibility: Please apply by purchasing a boat ticket and reserving a place to stay.
*We do not accept participation by children only.
*Preschool children (infants) are free of charge.
Time required: 
Slot 1 : Pick-up and drop-off (18:15-18:30) ⇒ Program time (18:30-19:00) ⇒ Pick-up and drop-off (19:00-19:15)
Slot 2: Pick-up and drop-off (19:15-19:30) ⇒ Program time (19:30-20:00) ⇒ Pick-up and drop-off (20:00-20:15)
Note: Pick-up and drop-off is available at night. Please make sure to indicate when you make your reservation that you would like to be picked up and dropped off, along with the name of your accommodation.
If you have a means of transportation, please cooperate with the determined meeting and dismissal time.
Please refer to Access for directions to the Ogasawara Marine Center.
Also, please wear clothes and footwear that are easy to move in and can get wet.
For any other inquiries, please feel free to email us at info@bonin-ocean.net.
If you are using a cell phone, please set your phone to receive emails.